Denis Potapenko and Kseniya Zharchenko will represent Game-Ace at Unite 2019 Conference.
When: 24-26 September, 2019
Where: Bella Center, Center Blvd. 5, Copenhagen, Denmark
We are excited to learn more about the AR/VR, Games, Automotive, Transportation & Manufacturing, Machine Learning as well as the Core Tech industries. We are planning to meet with our partners are open to establishing new connections and partnerships.
The Unite 2019 Conference is an amazing opportunity for us to exchange experience, knowledge, and ideas with the pioneers of the game development industry.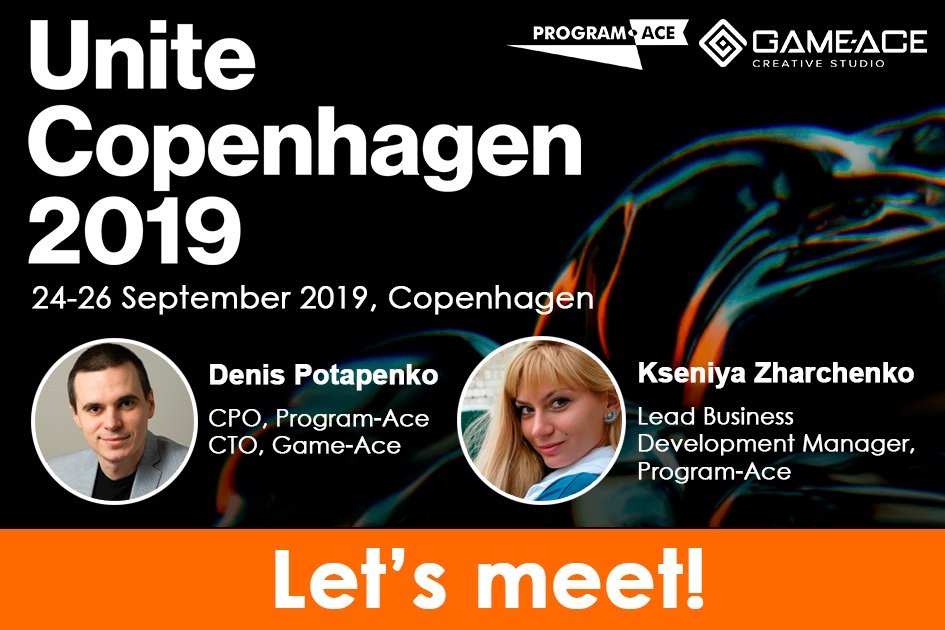 About Unite
Unite is an annual conference organized by Unity as is directed at driving innovation by creating a comfortable and friendly environment for Unity development leaders to exchange knowledge and information.
Watch the Unite Berline 2018 Keynotes to get a feeling of the conference.
About Bella Center
Bella Center is Scandinavia's second-largest exhibition and conference center which provides 121,800 square metres of the indoor area and can easily sustain 20,000 people.
This is the first time Unite organizes an event at Bella Center, and we are certain it's going to be a huge show.
About Game-Ace
Game-Ace is a game development department of the parent company Program-Ace. The major focus of Game-Ace is AR/VR, mobile, desktop, web, and console game development.
The most requested game apps come from the casual, hypercasual, arcade, casino, and MMO gaming genres.
Apart from full-cycle game development, our company also provides 2D and 3D art and assets development services including VFX, motion design, and animation.
For further information, you can contact us directly at: [email protected]
See you at Unite Copenhagen!