As someone who is actively investing in slot game development, you probably know the value of exclusive and up-to-date video slot assets.
Stylish, modern, and thematic appearance of online slots is what makes them so appealing to the audience, and overall, favorably playable.
In the online casino industry, it's a very common challenge to revive old slot games, reskin them, polish, and relaunch on new platforms. From code optimization to slot art creation, there are a lot of things you can do to make slots popular again.
Each online slot game has different components or assets that can be changed, reskinned, and modified to be used for various ambitious projects like:
Thematic slots (e.g. featuring Game of Thrones)
Slot game franchise (e.g. Age of Gods, Bingo Knights)
The main difference of such online slots is that they aren't just spinning reels with paylines. Thematic slots are character-centric online casino games with one or multiple storylines, features, and bonuses which help to engage players with the game.
Recommended read: "The Psychology Behind Online Casino Slots and What Makes Them So Popular"
To hit such ambitious objectives, it is often required to develop a slot game from scratch; however, sometimes you can just reskin the existing slot game UI and add new features and assets.
Symbols

Symbols are the online slot game assets that appear on the spinning reels. They are the most requested assets for redesign, animation, and visual effects (VFX).
Symbols can be divided into several types:
Low value symbols (A,J,K,Q,9,10) – minimum payouts for a winning combination, the most frequent fall, no additional mechanics.
Middle Value symbols – represented by any objects and are highlighted graphically with respect to low value symbols. Average payouts.
High value symbols (wild, scatter, bonus) – maximum payouts with a winning combination, the lowest fall rate, almost always have additional mechanics.
Each type of symbol has its unique design to fit the theme of the virtual slot machine. Moreover, each slot symbol is designed to reflect its paying potential.
Slot reels grid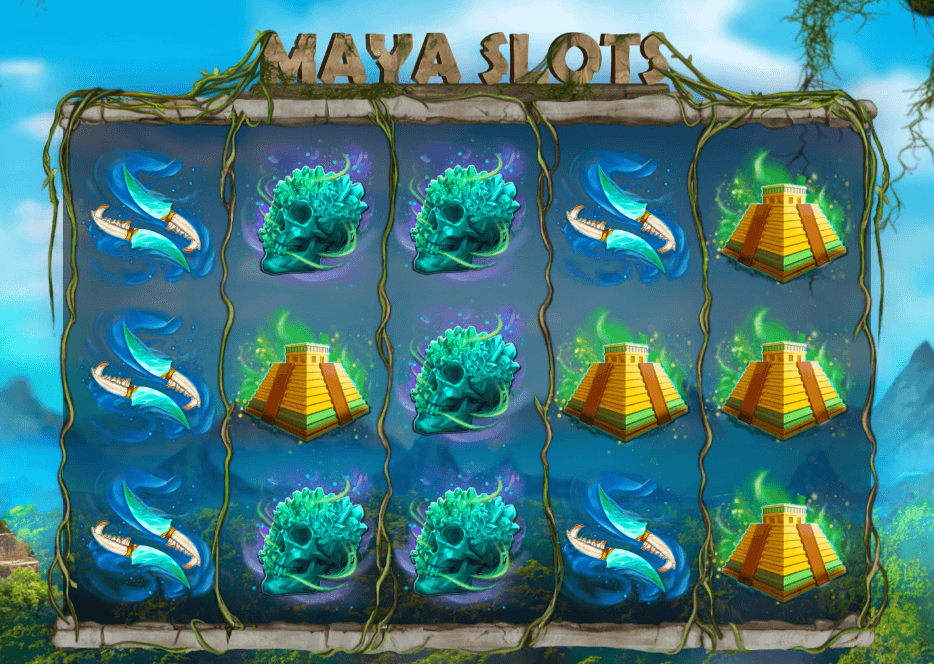 See it in action >>>.
Depending on the theme and style of slots, you may want to design the slot reel's grid. In this case, we are talking about the visual appearance of the grid and not the one hardcoded into the slot UI.
A slot reel is an asset because it might come with a unique layout and contain custom animation or visual effects which can be used for smart references in the franchise.
Let's say your slot game has different seasons like summer, autumn, spring, and winter. The slot reel grid design can change according to the season without changing the UI grid (e.g. 3×3, 6×3, etc.). Such a dynamic design contributes to the storytelling which is a key component of a thematic slot game.
Mini-game Assets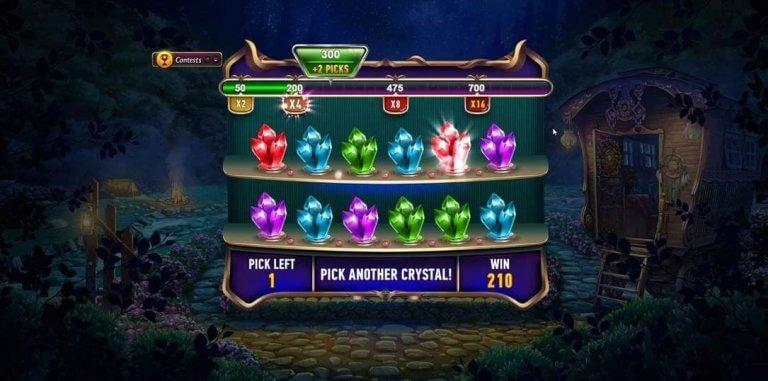 Image credit: CaesarsGames[.]com
Mini-games or bonus games are extremely popular in online slots. They help to increase user lifetime value (LTV) by engaging players with in-game activities which are highly rewarding and fun.
Caesar's Slots point out the 3 major types of bonus games that they actively use:
Matching Games (match objects on the screen and get a reward)
Picking Games (pick objects off the screen and find hidden rewards)
Progressive Bonus Maps (similar to a board game. Uses progressive map)
Depending on the style of mini-game, the game will have a custom UI, symbols, animations, backgrounds, etc.
Slot game typography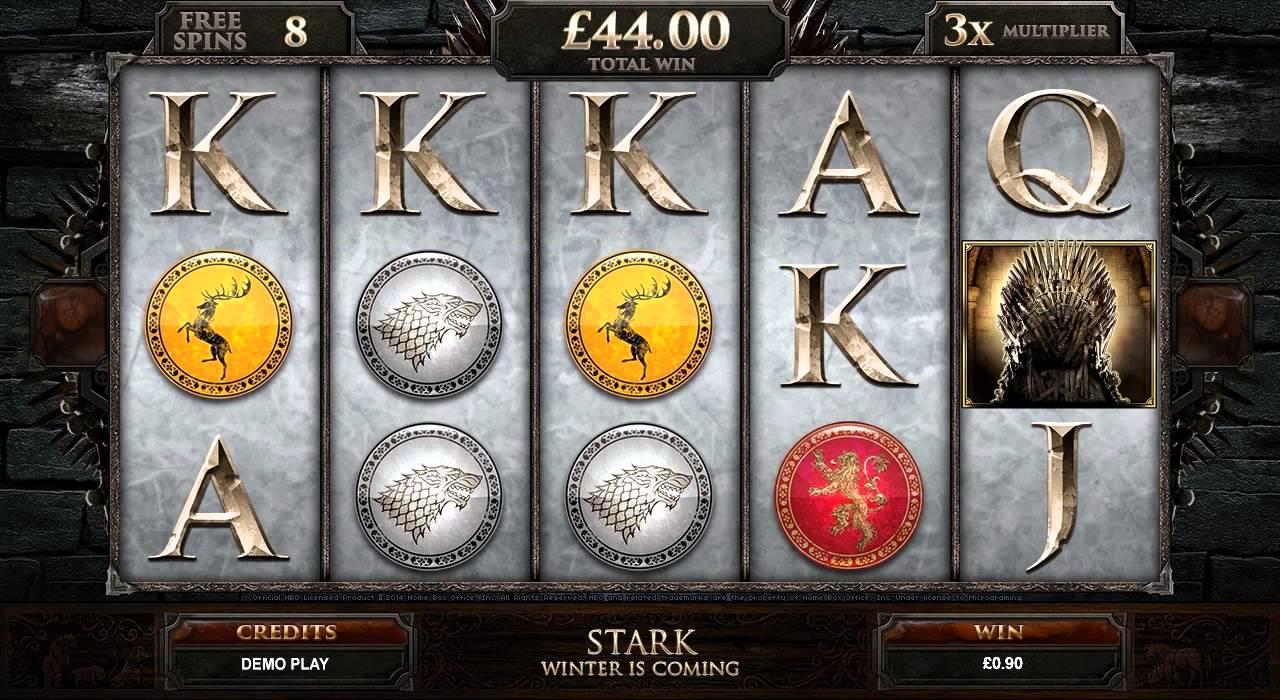 Image credit: bonusbandit[.]com
Typography is an art. Slot game typography is a whole set of procedures that need to be taken in order to create smooth fonts that will be readable and reusable. Moreover, they should perfectly fit the theme and focus of the slot game.
Typography plays one of the most important roles in slot game development because it helps to highlight the style and atmosphere of the game. In contrast, poorly chosen or clunky fonts will ruin the appearance of the game and waste the efforts of designers.
Assets for in-game purchases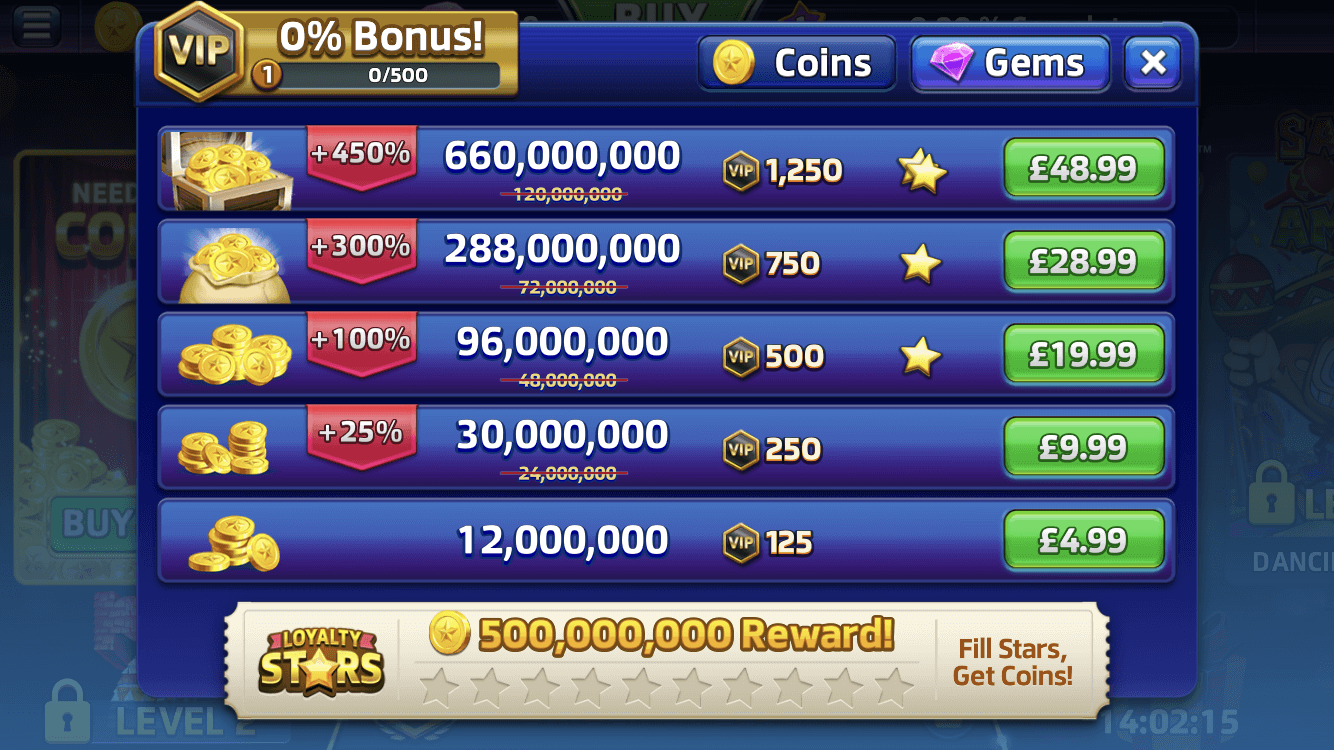 Image credit: Sega Slots
Monetizing slot game application through adds on in-game purchases is a great way to make significant income off your slot game app and increase customer experience for your players.
A slot game store requires design of in-game currency, bonus games, and objects to name a few.
Usually, it's all about designing as high-quality and sophisticated assets as possible to ensure indirect in-app purchases. In other words, users feel much more comfortable exchanging crystals for spins rather than paying for spins directly.
In addition, there is one more modern way of monetizing slot games — through the NFT assets implementation. In such games, players can win or purchase NFT assets (blockchain-based in-game items) that can be resold for crypto coins or dollars. Since NFT games are relatively new, it's better to use the support of NFT game development services for slot NFT assets creation.
UI design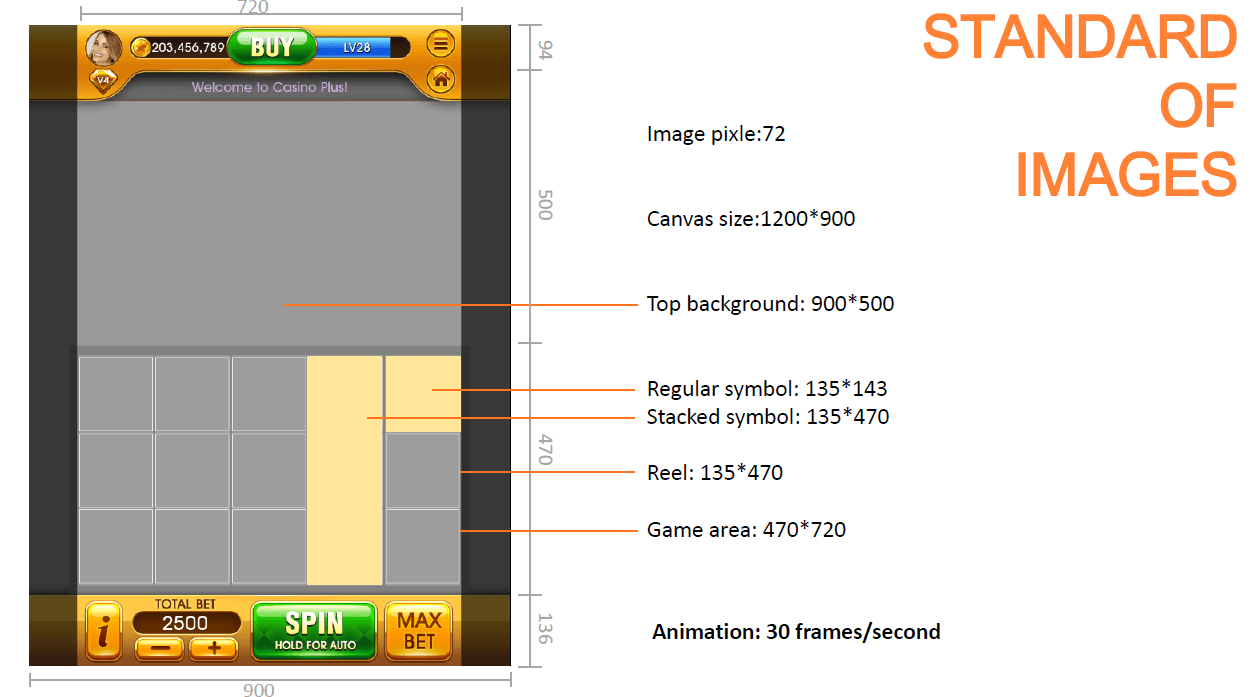 As the skeleton of an online slot game, UI/UX should be designed with a lot of things in mind. UI is not just about a fancy picture for a thematic slot game, it's about the audience and the purpose of content keeping in mind multiple customer persona profiles:
Circle of interests (hobbies, TV series, etc.)
Age and location
Income level and buying power
Expected or estimated purchase frequency, etc.
A perfectly designed UI/UX will work like a charm and only needs to be reskinned when necessary. Also, it's possible to add new features in case they are required.
Background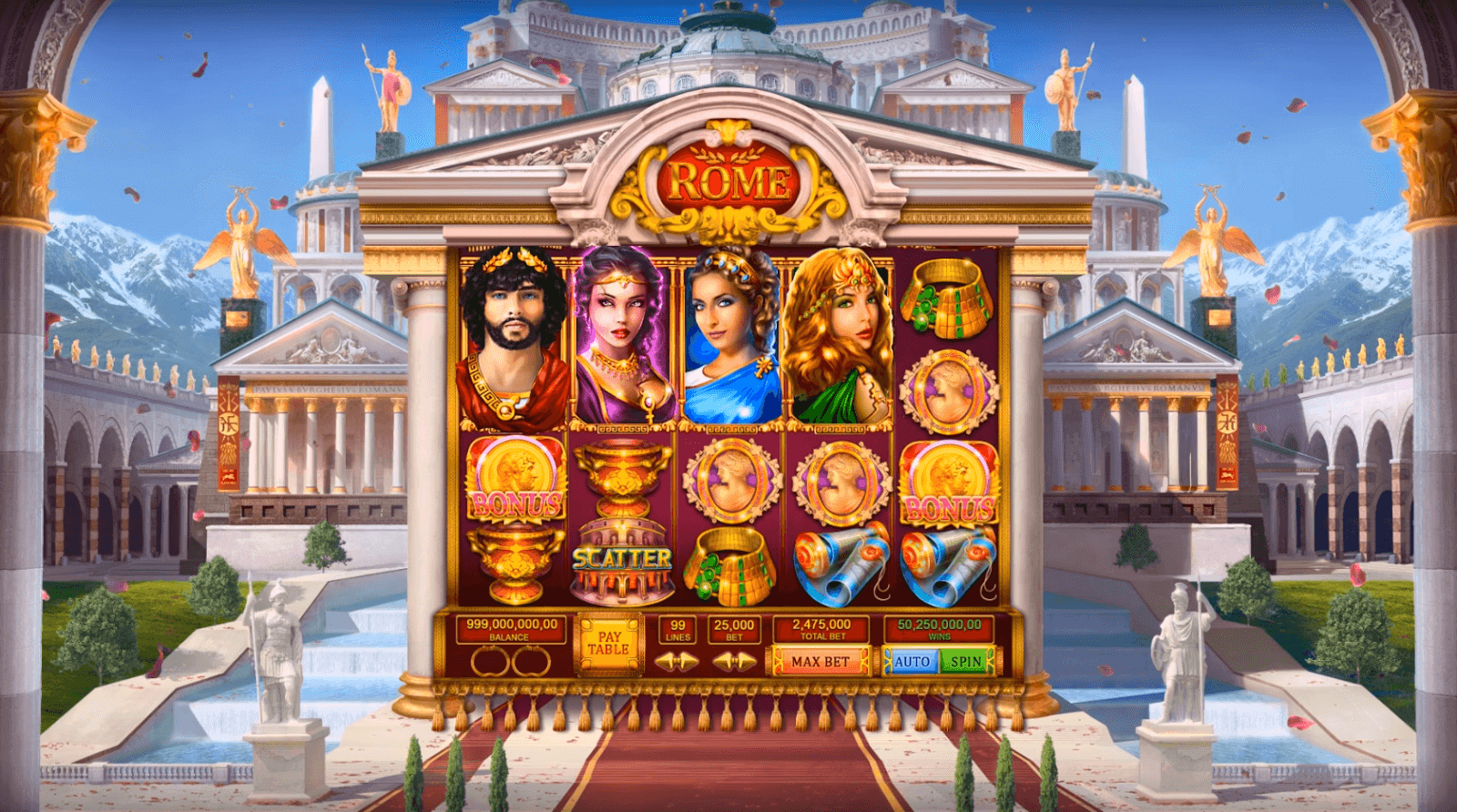 See it in action >>>
Background is another slot game asset which can be either dynamic or static and adds to the atmosphere and ambience of a slot game.
Background is used to create the depth and provide a broader picture for the theme of the video slots. Just like symbols, backgrounds are a popular request for slot game art creation services.
Win screen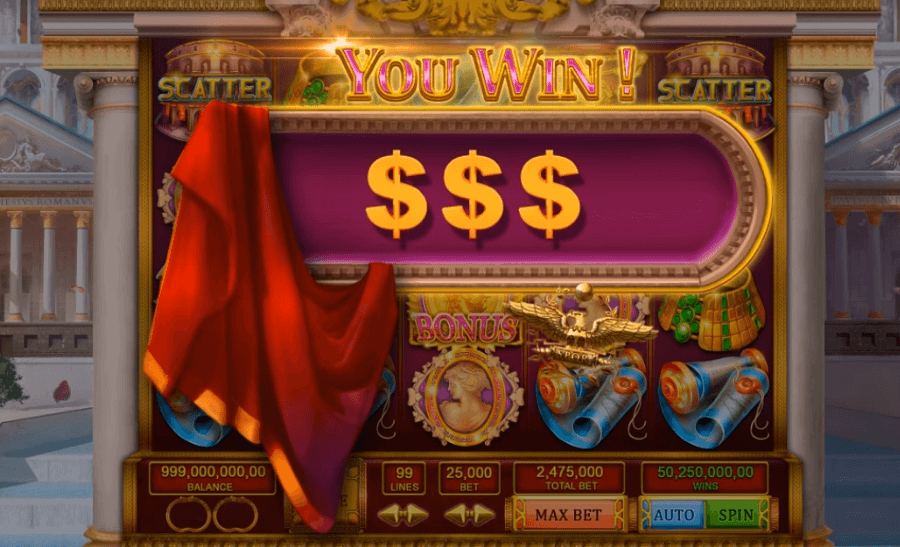 A win screen in a slot game plays one of the key roles in user engagement and gratification.
When a user sees a win screen this is the moment when they finally get their much desired reward. It's the moment when dopamine is released cherishing the reward-motivated behavior and making users play more.
Apart from being an art asset, it also plays a strategic role in player retention and LTV.
Leaderboard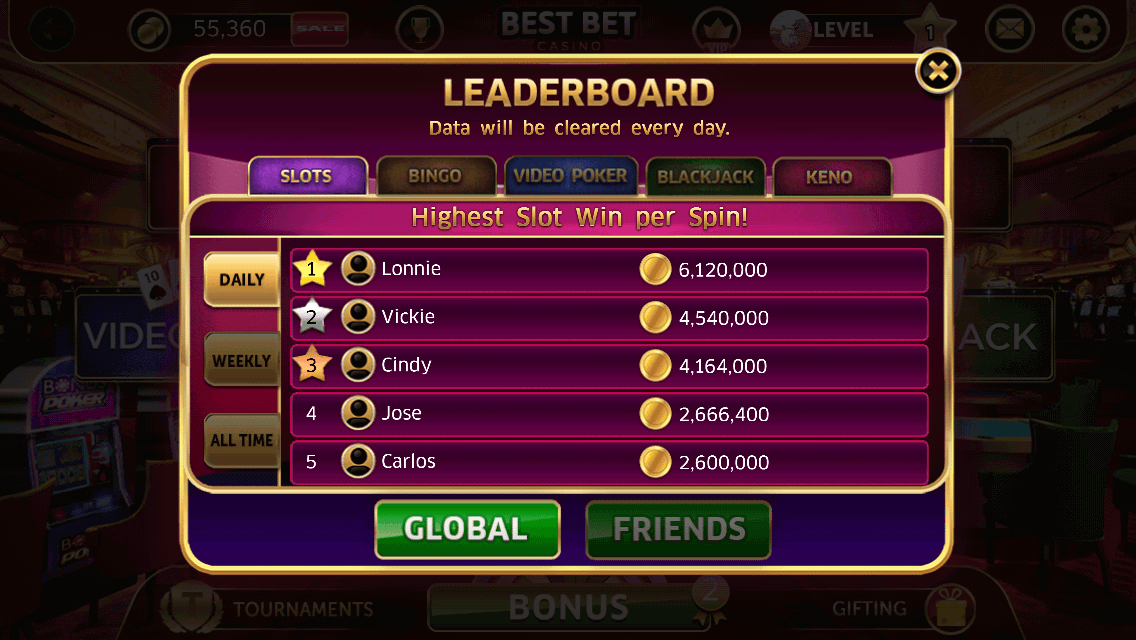 Image credit: bestbetcasino[.]com
If you look further into the motivation and psychology of a slot game player, you'll find out that many players seek socialization when playing slots.
The leaderboard drives the social behavior and adds up to the competition and challenge of the slot game. It helps players track their progress and see how they progress in the game.
Moving up or down the leaderboard causing winner/loser effects making users play more aggressively and resort to in-game purchases.
Code
Finally, the code behind the slot game is a whole different asset which can be restructured and reused multiple times for a whole slot game series.
Being written in blocks, the different parts of the code can be used for a variety of purposes:
Connecting services, databases
Setting up ads and affiliate programs
Adding/deleting or revamping features, etc.
Usually, the code is not requested as a separate option. Often times, clients approach us with the request to develop a slot game from scratch since the changes in code might lead to changes in functionality, and thus, design.
In close collaboration with our 2D and 3D art creation division 3D-Ace, Game-Ace provides full-cycle slot game development services.
Some of our projects have been mentioned in the article already; however, for further information about our experience in slot game development you can contact us here.
If you're looking to outsource slot game development or want to hire a slot game artist, Game-Ace may become your one-stop development partner.