Nowadays, it's easy to see the jaw-dropping speed of our technological advancement. Even if you do not follow tech news or watch video insights on the topic, you can observe the innovation from the new products that go on sale in local stores, from movies and TV shows, or simply by paying attention to the people you come in contact with. Game development as an industry is no stranger to rapid changes, and 2019 certainly fits the bill, with 2020 set to be the same. Our goal is to examine the top trends of 2020 and offer our own perspective, as a game studio with decades of experience and intimately familiar with the industry.
We will be using a recent survey as the basis of our analysis, as it included input from thousands of diverse game devs from all over the world.
Trends in Gaming Platforms
Although experience and proficiency in development for different platform varies from one programmer to another, a company or studio usually has a predetermined platform (or an assortment of them) that they are ready to work with, corresponding to their target clients and available specialists.
1. PC dominates other platforms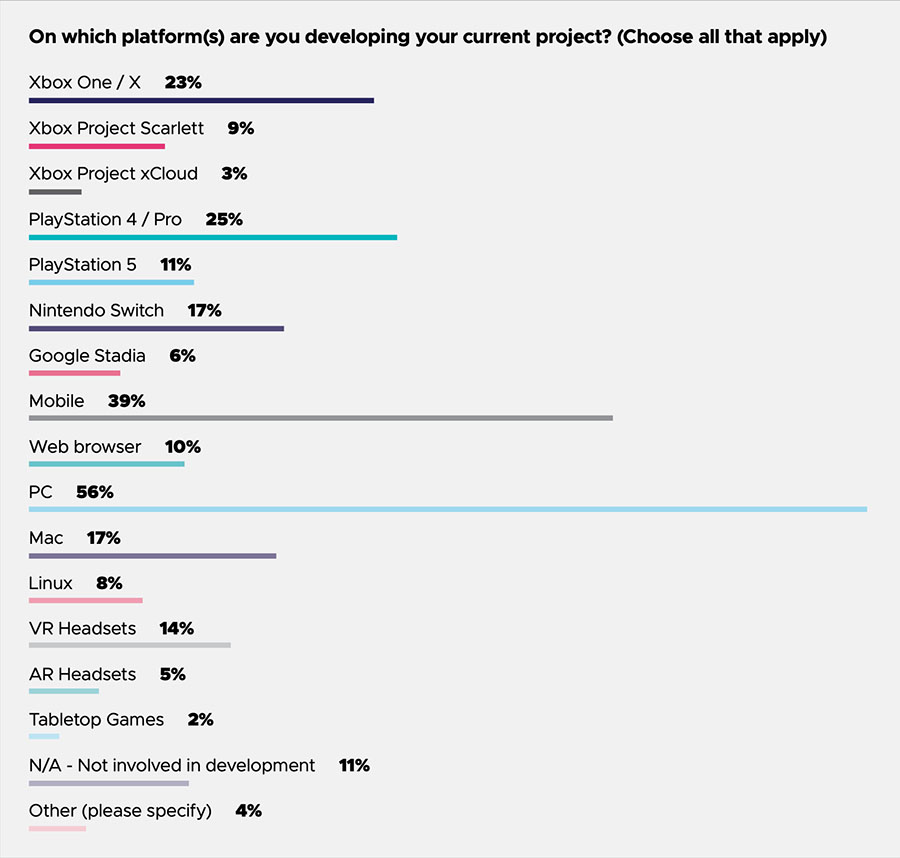 PC gaming is still a force to be reckoned with, considering the hundreds of desktop titles being released every year. A recent survey showed 54% of game programmers building on this platform (Windows/Mac/Linus). Evidently, most of the world's serious gaming population turns to PC as their go-to choice for entertainment, motivating studios to keep making such titles.
Furthermore, PC titles are often major projects with million-dollar budgets and franchise association, so they require a huge number of workers, and these designers easily beat other groups through sheer numbers. We would also like to point out that the same survey showed 39% of experts working on Mobile projects, and 10% on Web.
We have had a fair share of PC projects lately (mostly involving asset creation), but the demand for game development services for mobile has been much more palpative. Most notably, we have worked on multiple hyper-casual games recently and even released our own title – Knight – Stack Jump.
2. Powerful hardware is still the most appealing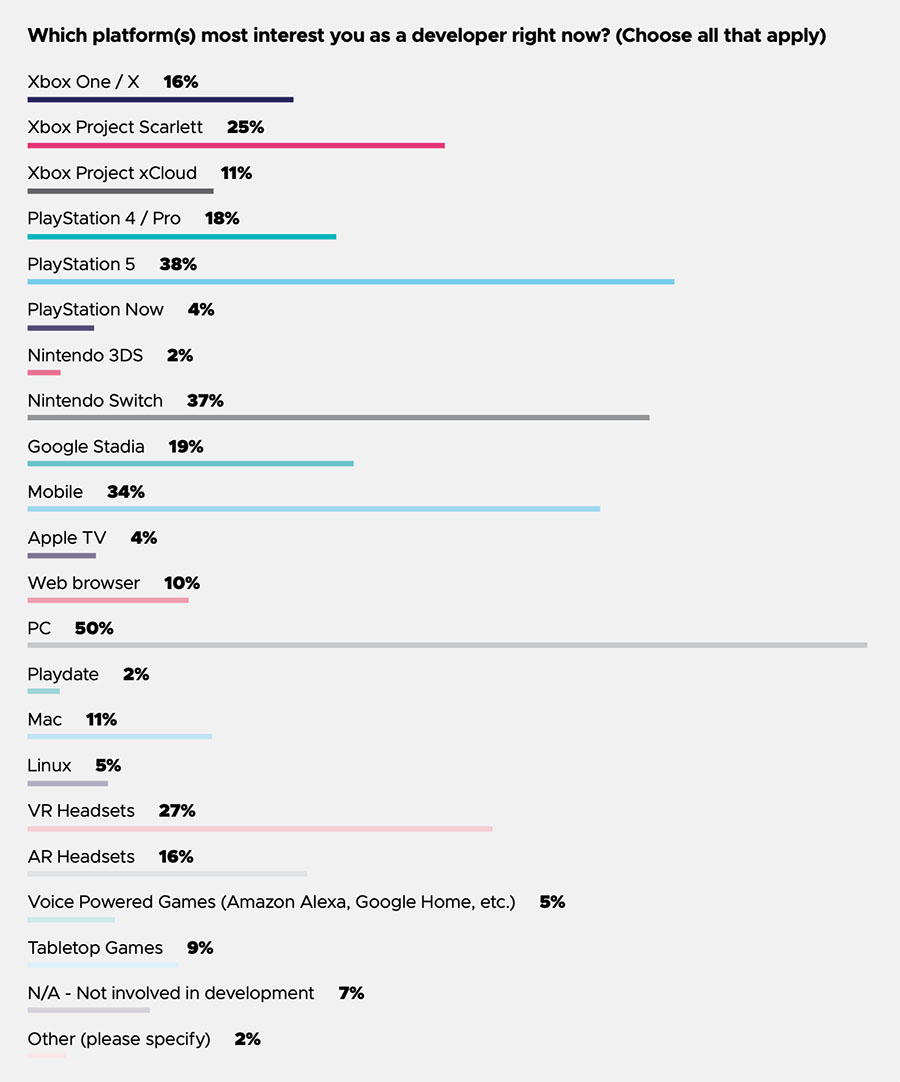 In terms of interest, Desktop is also the platform of choice, indicated by half of respondents. Consoles (like Xbox, Playstation, and Switch) are the second favorite (20-40%) which can probably be attributed to the specialists enjoying the challenges and rewards of working with such powerful hardware. On the other hand, VR and AR are reaching new heights, with 27% and 16% reported interest, figures that were in the single digits just several years ago. This dynamic growth is something we can attest to: we have noticed the number of clients looking for someone to deliver extended reality solutions skyrocket over the past several years, and are very pleased to have anticipated the growth of this sector.
3. Android and iOS are equally popular

Of the many people involved in creating mobile titles, the two leading platforms were supported by roughly half each. This is not surprising, as many companies build cross-platform solutions, forcing them to put equal effort and manpower into the iOS and Android variants. Our studio does not have a particular preference in this regard, and enjoys building both iOS and Android apps. Each of the two options has its own generalized user type and location, so we are thrilled when we get the option to build 2-in-1 and make our work accessible to everyone.
Immersive Tech Trends
Extended reality technologies (VR, AR, MR) are making great inroads into the broader development market, usually under the name of immersive tech.
1. AR is predicted to reign supreme

Augmented reality is the technology predicted to beat other immersive tech types in 5 years. At least, this is what 32% of respondents familiar with the technology specified. In contrast, 25% gave the edge to VR and 19% picked both. Fortunately, our studio has worked with both technologies for long enough to get an understanding of their merits.
The incredible accessibility of AR devices (like mobile phones) is certainly a positive factor for AR, but VR has plenty of merits as well, including better realism and immersion. Thus, perhaps both will coexist and thrive peacefully. Mixed reality is another type of immersive tech that we have worked with extensively and appreciate no less than VR and AR. Thus, we suggest that companies looking for an immersive experience look at all the options available and not just the leading 2 types.
2. Oculus and HTC claim the top spots in VR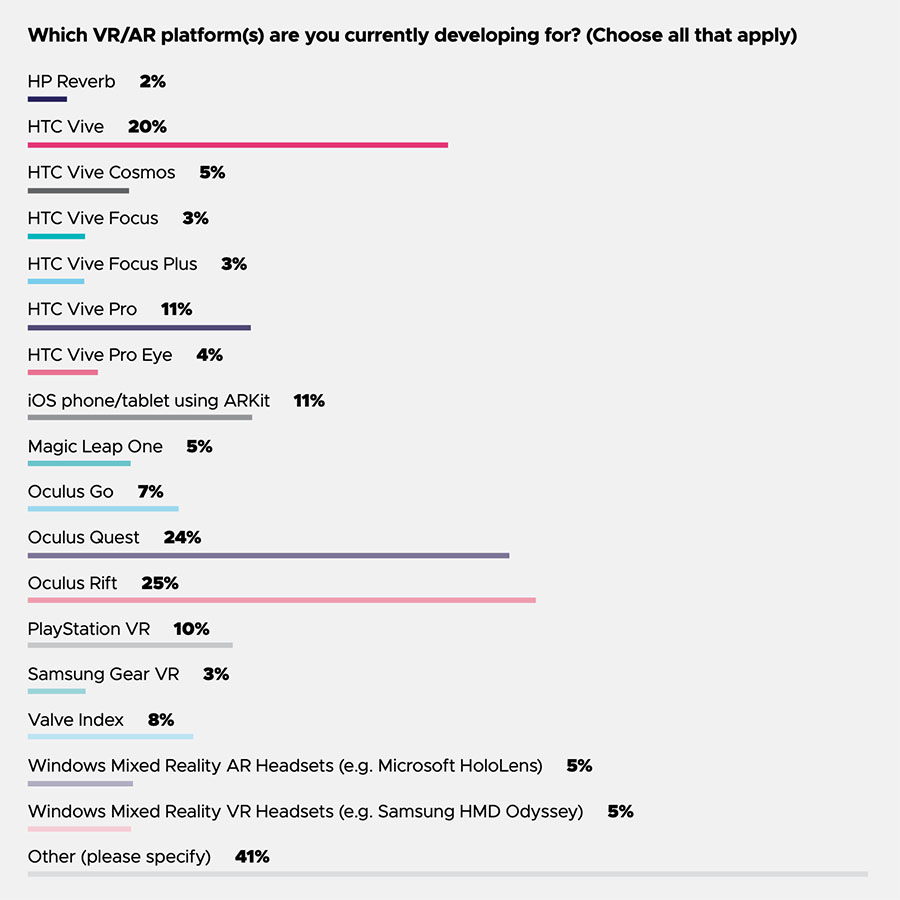 When it comes to the choice of headset for programmers, HTC Vive, Oculus Rift, and Oculus Quest are easily the most common, claiming 20%, 25%, and 24% of the vote, accordingly. The strong showing from Quest is particularly interesting, as the headset has been around for little over a year. Still, we understand the popularity of the newcomer: companies often want to build solutions for the newest tech with the hope that they will not become obsolete very soon. While Quest does have certain unique and innovative features that we enjoy, we also like building with the other top products (Rift, Vive, Gear, etc.), and would not exclude them from consideration simply based on age.
Talent Market Trends
People tend to put a spotlight on hardware and software when talking about innovations in game development, but we should never forget about the people driving innovation – the developers.
1. U.S. developers are prolific but not unmatched
Over half of devs hail from North America, and another quarter come from Europe.

When asked which region of the world they reside in, a majority of survey respondents said either North America (55 percent) or Europe (25 percent). With 9 percent of respondents, Asia proved a distant third; another 6 percent said South America, and 2 percent said Australia or New Zealand.

This is in keeping with survey results from prior years and is to be expected, given that GDC is based in the United States. Still, it's intriguing to see where attendees are coming from, and this year we saw a minor uptick in devs from Asia alongside a small but noticeable downturn in the percentage of devs who hail from North America.
It's difficult to get a global estimate of the number of active game developers and their distribution by country, but the survey we analyze can serve as a great miniature sample. In this survey, 55% of the specialists were from the U.S.A., and 25% were from Europe. No one can argue that some of the greatest studios and experts are American, but the tide of business is slowly shifting towards Europe, and Eastern Europe in particular. Studios like Game-Ace based in Ukraine can offer the same level of quality and experience for a lower price than our American counterparts. For example, we provide several business models (fixed cost, time & materials, team extension) for customers' convenience.
2. There is plenty of young talent in the industry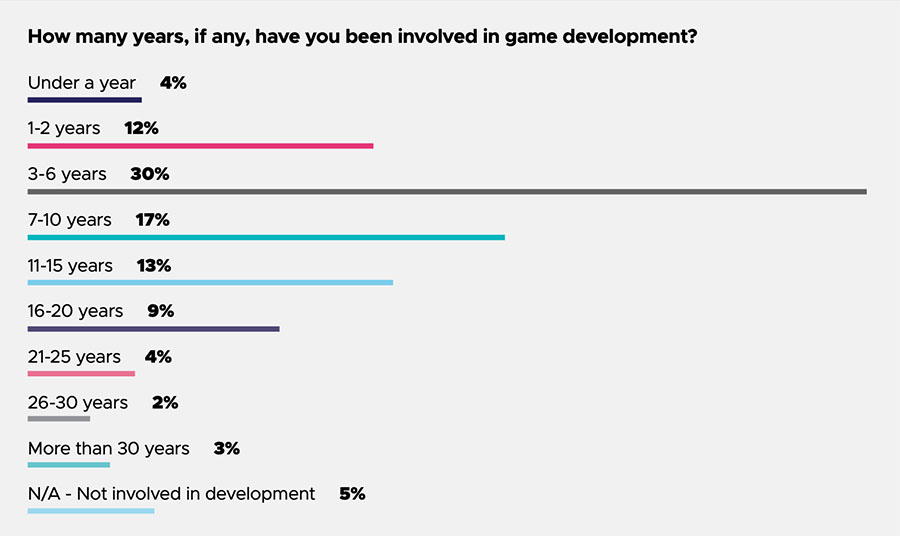 Though game development as a business sector has been around for over half a decade, many of the game designers working today have been in the industry for a short time. To be specific, out of those polled, 30% had been building games for 3-6 years, with 17% for 7-10 years, and the figure drastically shrinking for longer-term groups. This suggests that the industry is attracting plenty of young specialists and giving them opportunities, instead of stagnating or giving disproportionate value to seniority.
Game-Ace hires plenty of new specialists to support our longstanding staff, but these newcomers usually have several years of experience below their belt. Furthermore, we pay more attention to experience than duration, and make a point of helping our specialists get certified (e.g. Unity certification) and pick up the skills they need to make titles of any caliber. It's safe to say that this effort is paying off, since we currently hold one of the largest Unity-certified teams in Europe.
3. A mixed bag of company growth

Of the companies surveyed, 49% grew in their total staff. Most had over 500 working developers (19%) or just one (19%). However, this was before the pandemic, so it is possible that a large portion of the studios experienced layoffs or rapid hiring in changing market conditions. Overall, the industry forecast for 2020 is good, as people are playing more games than ever during quarantine. Our parent company (Program-Ace) had continual growth in the first and second quarter of 2020, reaching 120+ specialists on the staff. A large portion of these specialists work in our gaming division, so our studio falls somewhere in the middle of the general statistic in terms of studio size.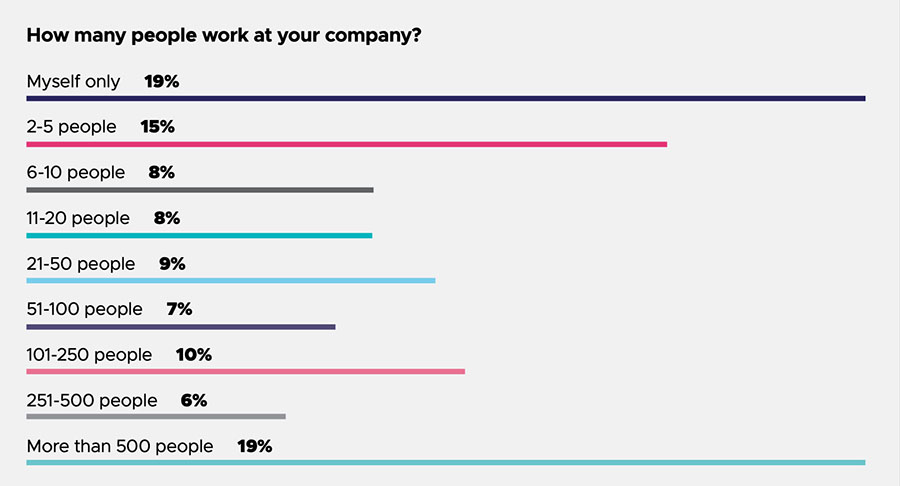 Other Trends
We noticed a few other interesting trends that do not fall into a particular category, but are worth pointing out.
1. Games can be profitable in many ways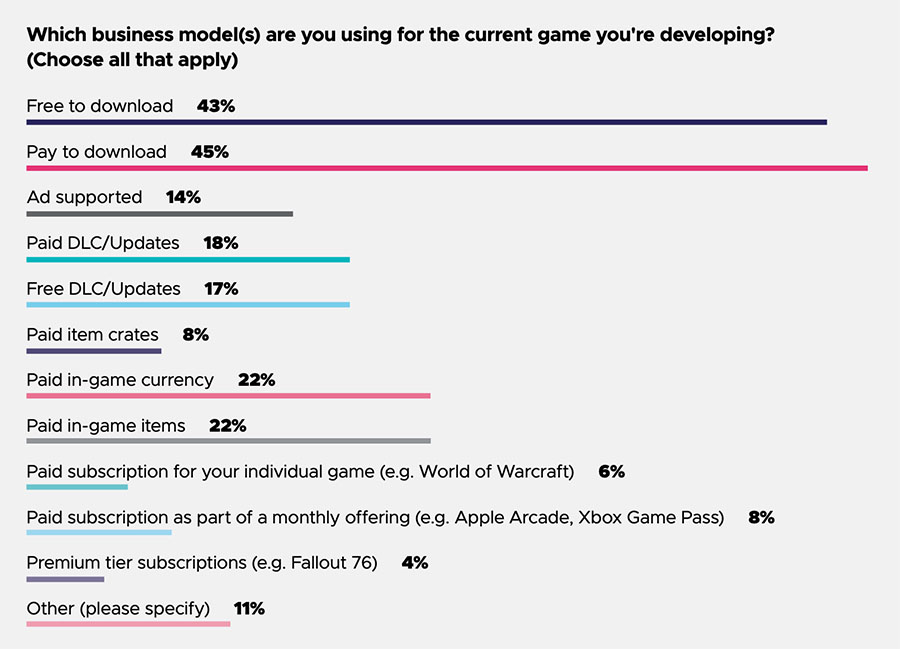 Monetization is one of the core elements of a vast majority of games, ensuring that the time and effort that went into the project are recouped and a profit is generated. Thus, 43% of studios indicated that their projects are free-to-play, while 45% offered paid downloads. Additional revenue streams came from advertising, DLCs, in-game currency, and loot boxes. Our studio implements the monetization that the client chooses, so we rarely get a say in the model, but our proprietary projects (such as Knight – Stack Jump) have been free-to-play with limited advertising.
2. Faith in Epic Games remains strong

Epic Games – the company behind the legendary titles Fortnite and Gears of War, as well as the Unreal Engine seems like a long-term winner in this industry to most surveyed programmers. 40% indicated that they thought the Epic Games Store would succeed long term. We have had the opportunity to work and communicate with Epic Games and agree with this assessment.
One of the greatest things about their company is the MegaGrants initiative, which provides financial aid and sponsorship to various studios developing cool and innovative products. In turn, the applications are usually featured in the aforementioned store after successful completion. Our parent company received such a grant for a non-gaming project, and we think this is a winning strategy for Epic. They get to contribute to the growth of some of the coolest projects by developers outside their staff while attracting more customers to their marketplace through the inclusion of such applications.
Conclusions
It is only possible to get a grasp of the scale of changes in the industry by looking at these trends as a whole. We can clearly see new technologies gaining ground, new business models and talent markets rising to prominence, and plenty of new specialists finding work in this field. There are more platforms available for game development today than there ever were before, and many companies need experienced partners capable of working with them, whether the technology is new or old, commonplace or niche.
Game-Ace has over two decades of experience in development in various genres and platforms, so we could be just the right partner for your project. Web, mobile, desktop, AR/VR/MR – you name it, we have done it. If you have a project in mind that you want to entrust to a reliable provider, just reach out to us. We will be happy to discuss possible terms of cooperation.