Even today the metaverse concept remains unclear to the broader audience, so what do we have to say about metaverse games? These, in turn, seem even vaguer due to the lack of big projects proving their viability. Simultaneously, this is what will make the metaverse game development industry so progressive and full of potential.
Why so, you may ask? Simply because this hesitation and lack of confidence in the global metaverse field will gradually breed a pool of enthusiasts leveraging every single opportunity opening before them. Unlike large-scale corporations like Meta, every insightful and opportunistic metaverse game development company will be able to incorporate unexpected innovations, bringing in absolutely unique concepts.
In this article, we will slightly remove the curtains in front of what's happening behind metaverse game creation and what awaits the future of this industry. Moreover, you will find out how a single outsourcing studio may help you create a pioneering product that breaks the chain of traditional gaming.
Looking for professionals to create metaverse games?
Benefits of Creating a Metaverse Game
Nowadays, not all tech giants realize the potential concealed behind metaverse games. Combined with VR/AR, NFT, blockchain, and other high-end technologies, these gaming products will be able to deliver a never-before-witnessed experience for end-users. In particular, it is exactly a unique experience that generates profit in the gaming market.
To be more precise, what are the long-term benefits of developing a metaverse game?
Product versatility. By mixing social networks, technology, and gaming, you'll get a multifaceted as well as an all-in-one product that effectively responds to the market demand. Play-to-earn, GameFi, traditional gaming, social media, store — your metaverse game will combine it all for the good of a deeper experience.
Security. Due to the most advanced blockchain technology, smart contracts, and related cryptocurrency system, your metaverse game will be extremely challenging to hack. Just remember a recent phenomenon: the Elden Ring. How long will it take to remove all the bugs, performance issues, and holes in the code system of this game to make it a polished product? Well, it's unlikely that your future metaverse game will have the same problems.
Immersiveness. In contrast to a traditional gaming experience, players in the metaverse will undoubtedly spend more time, inasmuch as they will have more mechanics to play with and social networking to accomplish.
New business prospects. Once you have your metaverse game developed and launched, the final product becomes an almost infinite well of opportunities for business owners. Opening new stores, selling in-game items for NFTs, or arranging virtual concerts of famous singers — all these business opportunities will be at your service.
How to Develop a Metaverse Game that Brings Value?
Did you know that Epic Games had secured a $1bn investment for the metaverse, $200m of which was from Sony? At least this initiative from such an influential game development giant already confirms that great potential is hidden behind metaverse gaming. After all, how to develop a successful and profitable metaverse game that players will adore?
Fundamentally, metaverse game development isn't much different from creating PC, console, or mobile games. However, they are technically closer to VR/AR gaming products, considering the attention to be drawn to performance optimization, polygon count, level of detail, etc.
That's why you should consider the steps below while making your metaverse game or merely have the entire product developed for you:
Come up with an attractive idea, genre, scope, and related game mechanics;
Research competitors;
Choose the target audience;
Pick up a game engine (in most cases, the choice is between Unity and Unreal Engine);
Find out what VR devices will best suit your product;
Research the market to gain insight into the best blockchain and cryptocurrency platforms;
Define the project scope and cost;
Hire or outsource a team of professional game developers, 3D tech artists, managers, and blockchain experts that will do the whole work;
Integrate a blockchain system into the already-built game;
Negotiate with publishers and launch a marketing campaign.
Nevertheless, it's always about either having a reliable game studio develop the product for you or creating everything in-house, which is a topic worthy of 2 separate sections. Without further ado, let's jump right into the discussion regarding the pros and cons of each approach.
Building Metaverse Games In-House
In case a company decides to go with creating a metaverse game in-house, it will need to resolve a number of difficult challenges. For instance, hire experienced developers, 3D artists, and other team members that will lay the foundation of a future project. Furthermore, there will be a need to employ blockchain specialists and research the entire market to learn what it has to offer for metaverse games.
In most scenarios, building such a project from scratch by utilizing exclusively an in-house team is likely to lead employees to burnout, deplete internal resources, and may not result in a commercially successful project. At any rate, only large-scale AAA studios can afford to choose this development strategy without sacrificing game quality, performance, etc.
Outsourcing Metaverse Game Development
As a rule, by outsourcing metaverse game development, a company saves a huge amount of resources and human potential, having more room for essential tasks like marketing, management, negotiations, etc. This approach may prove beneficial in the long run for companies that are perfectly aware of what the metaverse is.
As opposed to using freelance or in-house work, when you choose a reliable metaverse development company, you already considerably cut the project cost and reduce any risks related to the process itself. More specifically, by entrusting your idea and other future game aspects you'd like to share to an experienced metaverse development studio, you delegate the responsibilities yet retain all the credit.
As a more beneficial model, outsourcing allows all parties to distribute work equally and let professionals do their work without having to learn everything from scratch about blockchain, NFTs, metaverse, and the rest. There is no denying that keeping such experts in-house may quickly empty all the internal resources allocated for a project. Plus, outsourced teams already have everything at hand, implying they spend less time to start developing.
You may be interested to learn that Game-Ace is also a metaverse consulting company with additional services for developing full-scale metaverse games of any kind. You can contact us if you need to gain more insight into how everything works under the hood or even build a metaverse of your own.
Metaverse Game Market Predictions
Just like NFT games, those created in the metaverse environment are only yet to genuinely blow the industry, introducing a more innovative, refreshed approach to designing games. Being a mainstream technology, the metaverse is unlikely to disappear once all the hype is gone. Instead, the statistic indicates that a wide range of business and gaming options inside a metaverse seem too attractive for developers to shun the technology.
Another survey proves the interest of business owners and internet users in the metaverse concept, explaining it with a wide array of creative activities as well as gaming opportunities. Currently, the number of metaverse games in development by various studios is continually growing, also revealing that the future of metaverse games implies a variety of prospects.
What Is the Future of Metaverse Games?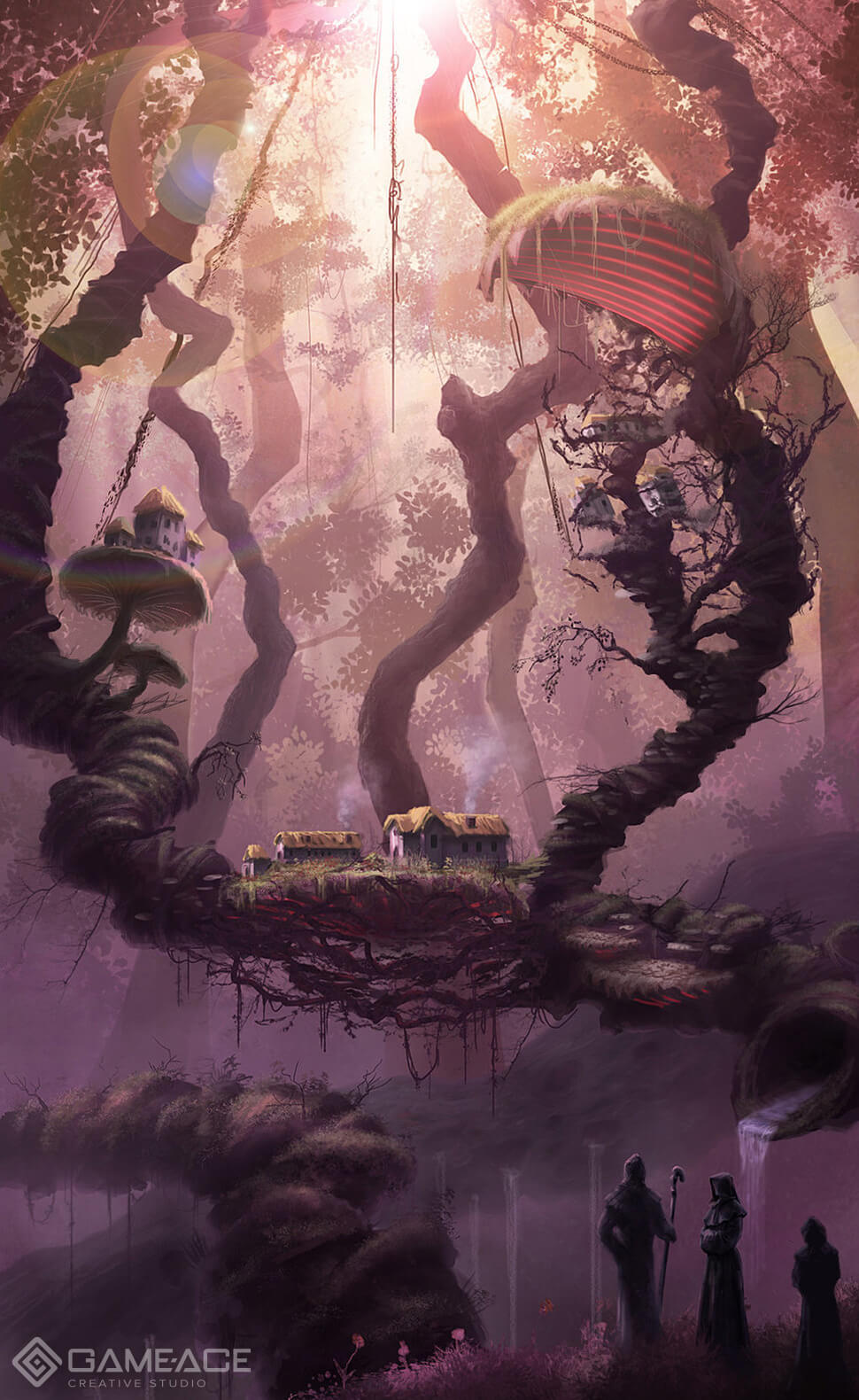 Plunging deeper into the future of technologies facilitating the existence of metaverses, it's necessary to refer to concepts that seem fantastic even today. Although many quality VR helmets like Oculus are built to reduce physical exhaustion during a gaming session, they are still not at the peak of their possibilities.
In order to facilitate interoperability, seamless connection, and long comfortable gaming sessions, developers of the future are expected to create lightweight VR goggles. Today multiple enthusiasts are trying to engineer motion-capturing and full-body haptic suits to ensure even more immersion with a virtual environment.
Given the number of innovations emerging in the metaverse industry, the future of metaverse gaming will be revolutionary. Each game development studio that joins the metaverse building community will undoubtedly be rewarded as immersive solutions account for a natural evolution of technology, so it's inevitable.
It all sounds insane but, what's more important, the metaverse technology presupposes an endless variety of business opportunities that can be integrated any time, even long after your metaverse game is finished. Social media, online shops, in-game collectibles, GameFi, and NFTs account for only the bare minimum of what the metaverse will offer.
How Game-Ace Services Will Benefit Your Metaverse Game
Ultimately, metaverse game developers worldwide are actively working on their projects to be able to compete in a slowly yet confidently growing market. Until it's not overwhelmed by big titles and large-scale corporations monopolizing the industry, anyone with an insight into the market can still swing into action without losing it all.
Game-Ace is a turnkey full-cycle game development studio with a ton of experience in the area. If you feel like going for the metaverse race and have a trustworthy partner covering your back, it's time to contact us without hesitation.