We bet you've heard quite a lot about Unreal Engine, looking for the most efficient way to create an NFT game. And it's not for nothing. Unreal Engine (UE) is a well-known and powerful game engine widely used for game development and visual (primarily 3D) content production. Thus, the capabilities of the Unreal Engine NFT game and art creation are impressive. Still, the NFT field is relatively new, so many questions can arise when working on a project.
This article will provide essential information on how NFTs in game development work and the main reasons to choose UE for this kind of development. Moreover, we'll tell you about various ways of NFT game creation, including the assistance of a reliable NFT game development company and how it can be helpful.
Want to know more about Game-Ace's work?
NFTs in Game Development: Essentials
As you may already know, the term NFT stands for the non-fungible token. NFT is a unique cryptocurrency as each NFT can't be replaced with anything. In contrast, other cryptocurrencies are fungible like traditional money. However, an NFT itself resembles a confirmation of ownership rights for a digital product like an image or a piece of virtual land.
Since NFTs are developed with blockchain technology (the blocks of chains containing information about a digital file) like other cryptos, it provides their owners with an exclusive and proven ownership, as well as a high level of security and peer-to-peer transaction capabilities. So how can it be related to games? Keep reading to learn more.
NFT Games: Explained
The concept of NFT games is called GameFi (also known as play-to-earn), which stands for the mix of gaming and finance terms. So that's how it works. Gamers play a video game (usually placed on the web, a mobile app, or metaverse) and earn/buy NFT assets — unique gaming items like weapons, props, and clothes.
The best part is that gamers can sell their gaming NFTs on marketplaces for cryptocurrency. Thus, users can earn money by merely playing games, while game developers get even more benefits as the NFT niche has colossal earning potential, offering multiple possibilities to entrepreneurs.
For instance, the market capitalization of one of the most famous NFT games, Axie Infinity, is $1.32bn. Moreover, it's even reached the number of $9.77bn once, which is quite impressive. Thus, professional NFT gaming platform development is considered highly promising and profitable for many businesses.
Meet the Nomadland: Awe-inspiring NFT Game by Game-Ace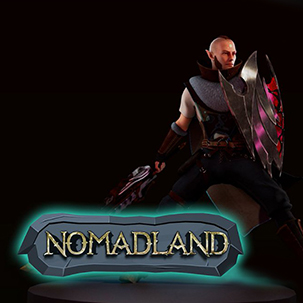 Looking to the future, the Game-Ace team works hard to complement the NFT gaming market with decent products allowing players to have an exceptional experience and make a fortune. With the new and striking Nomadland world, gamers can build up NFT land, fight with unique creatures, and turn their trophies into profit.
The 5 Reasons for Choosing Unreal Engine to NFT Game Development
Many stages of the NFT game creation process are similar to the development of traditional ones. Except it has distinct features like placing games on metaverses, NFT assets & wallets design/implementation. All of these require special technical capacities, let alone professional skills. You may find it helpful to use our metaverse game development services in order to scale your blockchain game or create it from scratch using our profound experience in the industry.
Luckily, the powerful Unreal Engine can provide you with decent development capabilities and beyond. Let's take a look at the reasons to create an NFT game with Unreal Engine.
Full-cycle game development. Since UE was created by Epic Games (an experienced game development company), the engine contains all the necessary functions, tools, and even ready-made templates for different platforms. Thus, you can create content for your game, animate it, do front-end & back-end tasks, and even test your product.
NFT integration capabilities. Once you create visual content for your gaming project, you can convert chosen assets to NFTs. Then, using a specific workflow and an Unreal Engine 5 NFT extension, you can integrate your NFTs into a game during the development process. In addition, you can use an NFT image and video generator if needed to create something specific quickly.
Stunning graphics creation capabilities. Unreal Engine mainly supports the use of C++, a programming language for coding. Since C++ is considered an advanced-level language, there are extended capabilities for creating better content quality. So if you are targeted to produce an outstanding 3D game, then Unreal Engine will cater to your needs.
Broad documentation base. Converting assets into NFT isn't the most challenging step in NFT game development. Some multiple complex stages and tasks require UE particularities knowledge to get them done correctly. That's why the significant amount of documentation that covers all the critical issues is what makes Unreal developer-friendly indeed.
An easier taxation process. Earning with NFT games, players should pay taxes as much as for any other income they get. However, there can be problems with taxation process organization. In developing a game with Unreal Engine, you can create specific wallets allowing users to convert transactions into tax tokens. That makes your product highly convenient for players and forces them to choose it over others.
How to Make NFT Unreal Engine Games
If you are interested in the fundamental steps, particularities, and a proper workflow of making an NFT game, we welcome you to explore an ultimate guide on how to create NFT games. However, aside from the technical nuances, one more practical issue is how exactly to bring your idea to life. Hence, here you can find three different ways to create an Unreal Engine NFT game and the information on what to expect from each.
In-house team
Working with an in-house team is usually an effective and productive way to make an NFT game. However, you should put plenty of effort and time into creating a dream team that will lead you to success. So let's compare all the pros and cons of this option.
Pros:
protected data and privacy;
relatively stable quality and performance;
same trustworthy specialists in each project.
Cons:
management responsibilities are on you;
decent candidates require full-time salary and perks;
an in-house team needs high-quality equipment;
recruitment process and onboarding processes take time;
possible work interruptions due to sick leaves.
Freelancers
Of course, you can't hire many freelancers of different specialties to provide you with full-cycle game development. Yet you can entrust them with some specific tasks and stages to save your budget and don't hire full-time specialists. However, this way is the most tricky of those we explore. Let's take a look at freelancers from their "bright" and "dark" sides.
Pros:
the lowest price on the work market;
per-hour payment, so you don't have to overpay;
no onboarding process and no social package to provide.
Cons:
no guarantee of data security and privacy;
freelancers need severe supervising and management;
you can change multiple executors until you find the right one;
freelancers usually aren't ready for long-term commitments;
lower quality level, as top-notch specialists typically don't work for a freelance salary.
Outsourcing to a reliable partner
Usually, outsourcing is the most beneficial option if you don't have an in-house team or lack certain specialists. You can find many reliable NFT game companies that provide helpful services according to your needs, so let's explore this option in more detail.
Pros:
data security and privacy guaranteed by NDA;
more cost-effective than serving an in-house team;
a ready-hired team of specialists tested by several qualifying steps;
a team and project performance are controlled by managers of an outsourcing company;
outsourcing companies are usually targeted on a long-term partnership, so they do their best to make it last;
high performance and work without interruptions, as outsourcing companies have plenty of specialists for replacement.
Cons:
finding a reliable outsourcing company takes time;
not many gaming companies are experts in NFTs;
some companies offer too rigid contract terms.
Build a Custom NFT Solution with Professional Support
NFT games and art development is a fresh but promising field, so there are not many specialists with broad experience in such projects. Still, progressive game development companies have already explored and mastered the particularities of NFTs as well as blockchain technology.
Game-Ace is one of those companies that constantly develop their skills and level up expertise to meet the needs of entrepreneurs. Our team has already delivered several NFT projects using cutting-edge technologies like Unreal Engine and strives to express themselves in new ones. So if you need to outsource your gaming NFT project, we would be appreciated to offer all our resources and several business models to choose what suits you better.
Please, don't hesitate to contact us for any questions or detailed consultation.